Mekong Cruiser - Down Stream 2days/01night
Cruises level: Mekong Cruise Cruise Build: 2019 No of cabins: 0
Great for: Single, Family with kids, Family with teens, Group of friends, Old couple, Young couple
Prices starting from:
$420
per person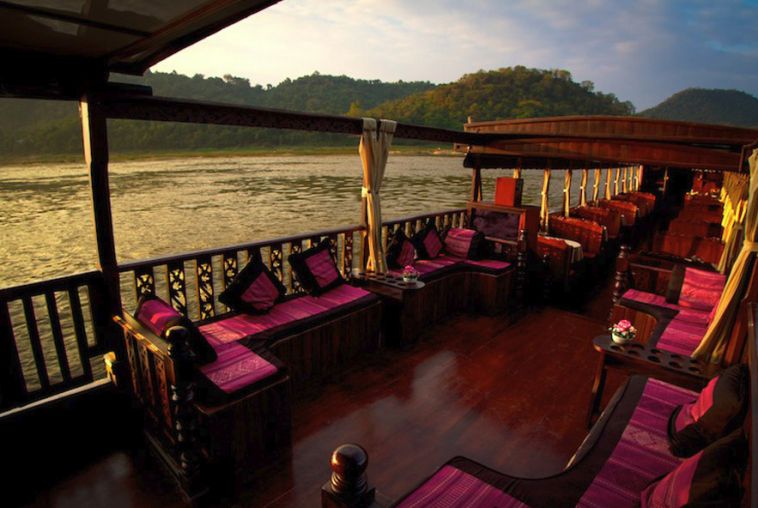 Check availablity
Book now to get this fantastic price
Special Features Mekong Cruiser - Down Stream 2days/01night
The Mekong River is the lifeblood of Laos, runs along much of its shared border with Thailand, and stretches from the Golden Triangle to the southern extremities of the country. The down stream cruising on its mighty Mekong with stopping at hillside town of Pakbeng and then to Luang Prabang is amazing gateway to experience Lao remote country side where local people, especially kids play ...
Read More
Mekong Cruiser - Down Stream 2days/01night 2 days
Highlight
Day 1: Houeixai – Pakbeng (Lunch/Dinner)
Our crew members and tour guide will be waiting you either at your hotel in Houeixai or at Lao side border crossing. (Please advise us where will be most convenience for us to pick up). Once you are met, we transfer you on board our traditional slow boat for the cruise downriver to the river town of Pakbeng. Your journey might take up to 7-8hrs including stops visiting villages along the way and our cruise departures by 08:30am.
The scenery along this part of the Mekong is argueably at its most beautiful. As your journey downriver you will stop at some Hmong, Yao and Khmu ethnic minority villages and have the opportunity to observe their traditional lifestyle. Lunch is served on deck as we enjoy the slow paced cruise.
Arriving at pakbeng late afternoon you will check in to your beautiful villa at Le Grand and enjoy a few drinks watching the sunset over the mountains and the Mekong. Overnight in Pakbeng
Day 2: Day 2 : Pakbeng – Pak Ou – Luang Prabang (Breakfast/Lunch)
Early morning breakfast. We take you to visit local market and marvel at the range of local produce everything from scorpions, snakes, fishes, frogs on sticks, buffalo skin and varied of organic vegetables from the local hill tribe village's farm.
This morning we continue downstream pass areas of un-spoilt forest with little villages along the riverbanks and perhaps the odd elephant or two with his mahout. You will visit a Hmong village and have the opportunity to explore the village. Lunch is served on deck as we enjoy the slow paced cruise.
We will pull over for a visit to Pak-Ou Caves, an ancient pilgrimage site and containing thousands of gold lacquered Buddha images left there over hundreds of years.
Arriving in Luang Prabang by sunset and our ground services are ended after sending you off at your pick up point at boat landing.
0 Customer reviews for Mekong Cruiser - Down Stream 2days/01night
0.0
Very good
Based on 0 reviews
Comments are provided by customers who have previously taken this cruise trip
Write a review